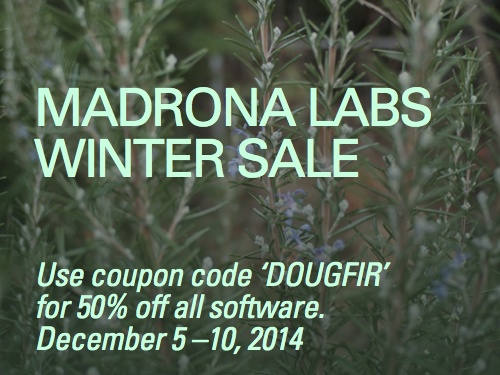 Greetings! I'm writing to announce the Madrona Labs five-day winter sale, starting now. From now until December 10, all of our software is 50% off. Now is a great time to get everyone's favorite patchable software synths for yourself or a friend. To get the discount, use the coupon code 'dougfir' on any product page, just above the 'Buy Now' button.


If you would like to give someone an Aalto or Kaivo license as a gift, it's easy.
Just buy the software in the usual way, but enter your friend's first and last name instead of yours when you make the Madrona Labs account. Then you can gift your friend the account name and password. Your friend can log in, download the software and change the account email to his or her very own.


Aaaaaaghh, I just bought Kaivo a couple of days ago. Well, that's life. If you feel generous Randy I don't have aalto, jajaja.
Thanks so much Randy. The sale coincided with my Christmas bonus and the purchase of my new PC (the old MacBook really struggled with the Kaivo demo). This is gonna be so cool!
Thank you Randy.
Now that i'm free of the limits of the demo version, i shall dive joyfully into Kaivo.
Aalto still gets a lot of love on my system. No doubt, the same will be said of its sibling.
I bought Aalto at one of the prior 50% off sales. My expectation were high to begin with, but Aalto was so amazing I felt a little bit bad about paying half price. As soon as Kaivo came out, I grabbed that synth at full price.
If the usual subtractive synths aren't giving you the creative freedom you need, get these. They are truly a bargain at twice the price!
I just bought Aalto and I think it sounds incredibly well! Thanks for this wonderful product, I wish you the best. Greetings from Italy.
Will the sale run until a certain time tomorrow (Dec 10)?
Will the sale run until a certain time tomorrow (Dec 10)?
Until the end of the day today, Pacific Standard Time.
Sorry I had to wait for the sale to afford Kaivo, glad I saw that email in time. Thanks Randy! Hopefully I'll have some cool sounds to upload soon.
Hi Randy,
The special Kaivo 50 % discount just pulled me over the threshold but the coupon code does not seem to work (anymore?). I might be too late because you mention december 10 but on the other hand, counting from receiving the mail on 08-12 at at 21:29 Central European Time, I should have been wiithin the 3 day period mentioned.
Please let me know if you can still do anything for me.
Kind Regards,
Marc Brassé
So is this sale officially over?
what a shame, never received a newsletter about the winter sale (actually, never received a newsletter at all, even if my account is set to). Already own Aalto, and Kaivo is on my whish list...
I send out a newsletter every month or two. The last one was on Feb 13 called ' Aalto 1.6: free update now available'. You could check your spam folder, or try this link to make sure you are subscribed: http://eepurl.com/hsZjQ
I wasn't subscribed at all...that's why.
Missed this one. Wasn't subscribed either. Next time there's a 50% off, I'm getting Kaivo.
I'll buy both Kaivo and Aalto on the next "coupon-sale". Hope it's soon ;-)
I will definitely do a sale in the winter. That's become sort of a tradition. I'm really not sure about anything sooner. I've read some good advice not to have sales too often because they get kind of addicting for everyone, myself included!
I just bought Kaivo then. Aalto must wait till when I got money again or for the winter sale ;-)
The "downloads" hasn't showed up yet, but I hope it will come soon. The email-address is correct.
Thanks for your purchase. You should have your download now.
Any plans for a 2015 Winter sale?
Winter Sale sounds like a great idea. ;)
Maybe Dec 15-20? Timing will depend a bit on my Virta work so please stay tuned.
Dec 15-20, possibly to coincide with a Virta release ?
(or just wishful thinking :) )