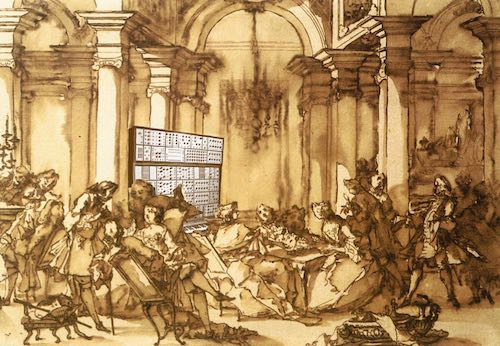 The Seattle Music Machine Salon is a new monthly discussion group, open to all and free of charge. Each month we'll have a presentation and a guided discussion on some aspect of making music with computers and electronics. Topics will include the practical and the not so practical: new software and hardware tools, compositional strategies, academic and popular styles of electronic music, its history and future.
Our first event is Friday, March 4 from 7 to 9pm at Ada's Technical Books in Capitol Hill. Ada's offers a comfortable, inspirational atmosphere, and great food and coffee. They are at 425 15th Ave East. Please visit their site at http://www.seattletechnicalbooks.com/ for more info and directions.
Everyone is welcome! This includes all ages and skill levels. The aim is to create a diverse group that will expand viewpoints and spark new projects. The only requirements are an interest in the topic and the ability to engage in respectful discussion.
March 4 presentation:
Randy Jones of Madrona Labs will demonstrate his new software instrument Virta, a patchable, sound-controlled synthesizer and effects toolbox.
March 4 discussion topic:
Seattle electronic music resources. What are some important foundations of the local scene for you? What are some less visible resources that should be better known?
Virta Demonstration! Very looking forward to the Salon, even though there is no way for me to attend, since I live opposite side of the planet with you Randy :)
Will there be a video for this?? btw, I love the illustration!
I hope that we will be able to stream the event live.
Very excited to get the video from this event and sorry I can't make it. I wish you many interesting discussions!
Aalto is the only music I listen to at home.
I'll be there. Excited to see Virta in person!
C'mon ladies, that modular's not gonna patch itself!
great just watched the video. Looking forward to this!
Can't believe I missed it! I'm down for the future.
Interesting video, great to hear Virta will be released this week!
good luck with the group, bit too far for me to commute from Spain :) but sounds great for the Seattle area!
awe shucks...3 days too late :p
I was just wondering if thetechnobear's note that Virta will be released imminently is correct? I've been compulsively refreshing the site for days! :)
Is a release date set, or are we still in 'when it's done' territory?
Good luck with the launch!
No date, could be any day though after say tomorrow. I just ran into some final hurdles and you know, it's gotta be right. In certain important ways anyway.
Randy have you fixed the midi/OSC mode in virta?
reported against Kaivo/Aalto ... when plugin is persisted, it will not be in correct mode until UI is shown - most hosts will not initially show the plugin UI when restoring a session.
( I guess since you might have hundreds of plugins in a session

)
Would be good to know it's fixed from day 1 in virta
No, but thanks for the reminder.
Hi Randy, When will the next meet up be at Ada's?
Hiya, sorry I've been slammed and it's short notice but I'm sticking to first Friday and have booked Ada's for April 1. Will post to all my normal channels later tomorrow.
I don't know what the presentation is, I was thinking I might do a Max / MSP intro.
Are these still happening? I'm planning a trip to Seattle, and might try to adjust the timing accordingly.
Yes, we do one most months. A couple of times this summer we cancelled because it seemed like everyone would be out of town. There's a website: http://seattlemusicmachines.org/ and a mailing list you can sign up to from the menu on it.