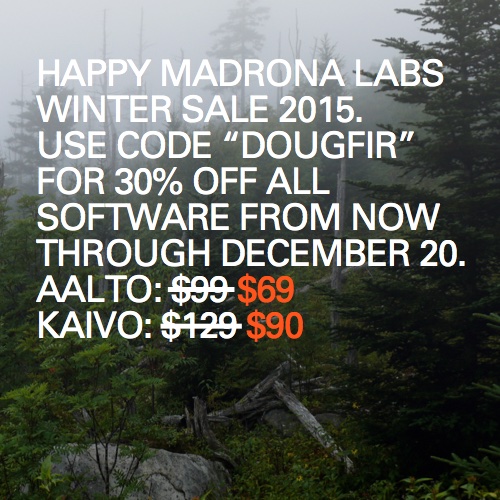 Greetings! I'm writing to announce the Madrona Labs five-day winter sale, starting now. From now through December 20, all of our software is 30% off. Now is a great time to get everyone's favorite patchable software synths for yourself or a friend. To get the discount, use the coupon code 'DOUGFIR' on any product page, just above the 'Buy Now' button.
If you would like to give someone an Aalto or Kaivo license as a gift, it's easy.
Just buy the software in the usual way, but enter the lucky person's first and last name instead of yours when you make the Madrona Labs account. Then you can gift your friend the account name and password. Your friend can log in, download the software and change the account email to his or her very own.
thank you!
just joined the fray...
Arg! Missed it by one day!
Also missed by a day... Oh well. :(
If you missed by a day or two feel free to email me at support for the hookup.
Oh I missed the sale! :(
I thought it was until end of the year. I was looking forward to grab those babies. :(
Now back to waiting mode again.
A lot of people seem to have missed it this time around, so you can use the code 'nottoolate' until the 30th. Enjoy.
Hi Randy,
Thanks for that, really appreciated! :D
I hope Dec 30th included because I just show the message, and the coupon is not working! :(
"Unknown coupon code: nottoolate"
Thanks!
OK, I fixed it for today only.
Thanks Randy!
[All plans for New Year's Eve just cancelled!]
Winter Sale!!!! oh wait ~ haha dev
[Dejectedly looks at the floor after thread date and calendar...]
WOW great synth layout/gui, thought I'd post some positive feedback from my first impressions :)
When I get some time I will check out the kaivo demo too ;)
Great work !!