randy's Recent Posts
So... yup! You can use the expo input to get expo FM. The next question is, what can you use for the modulation signal? There's the LFO, and also ENV2 in repeat mode. Each only has frequencies up to 220 Hz or so. That's by design, so that the potential for aliasing is limited.
Linear FM is what the OSC does internally. with linear FM the pitch of the modulated wave stays constant. You can also add linear FM using the linear pitch input to the OSC.
You can add exponential FM using the expo. pitch input, the "1.0 per octave" input.
"Is the pitch patched to the index to be mixed?" I don't understand the question.
I think Aalto's layout is pretty clear as far as what signals are controlling what. For applications and patch ideas, you can check the manual, or indeed, other modular synth manuals.
I did the thesis project that eventually became the Soundplane while at the University of Victoria in British Columbia, Canada. So, even though all this travel is making me a bit crazy, I'm happy to be heading to BC this week to catch up with some friends and give two more demos. Please excuse the late notice, as here are the dates and locations:


Victoria, Tue Nov 15

UVic School of Music, MacLaurin building [Rm. B016] 4:30-5:30pm



Vancouver, Thur Nov 17

SFU / Woodwards complex, 149 West Hastings St., room 3420, 4:00-5:00pm



The Canadian Electroacoustic Community (CEC) is an organization supporting electronic music in Canada, celebrating its 25th anniversary with a nationwide tour this Fall. I'm grateful to be included in the programs for both the Victoria and Vancouver events! Both days will include other demos, talks, and lots of great music. Find out more about the CEC Anniversary Tour here: [cec.sonus.ca].

Two great stops wrapped up the tour this week, first at USCB and then at CalArts. Many thanks to hosts Drs. Matt Wright at MAT UCSB and Ajay Kapur at Calarts. My brain and vocal cords got a bit of a workout answering all the great questions from people at each event -- the level of interest and knowledge that students brought in was really high.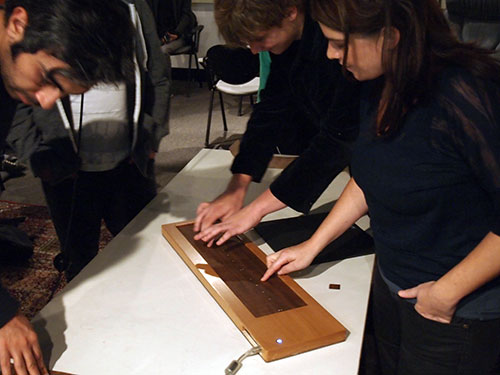 Taking questions helps me out a lot by letting me get a handle on things I need to explain better. The Soundplane's discrete keys over a more continuous surface is one example. People naturally wonder to what extent the keys make the surface non-continuous or influence the playing style. I'm writing down some notes about this and what else to put in the "most excellent hi-res demo video" I'll be working on soon.


Some other highlights of the trip: getting to see the UCSB Middle Eastern Ensemble perform Egyptian and Iraqi music, amazing tacos at Señor FIsh in Eagle Rock, and more sun in two days than I'll get all the rest of the winter back in Seattle. I'll be zipping back to OAK up the I-5 tomorrow, then flying home, and after a day of rest I look forward to sending another update from the lab.

No, there wasn't any introduction price for Mac users.
Yes, it's going to be someday-- I'll see if I can get it in for 1.3.
Thanks Valery for the workaround. I'm going to investigate a built-in solution for 1.3.
On Saturday I brought the Soundplane prototype over to Robotspeak in San Francisco's Lower Haight, where there was a really great and attentive crowd. We played with the Soundplane and Max/MSP, and the alpha version of Aalto for Soundplane. Here's part of the introduction taped by Jack Hertz:


I also brought some copper foil tape and with my laptop's built-in audio interface, made a simple capacitive distance sensor showing the basic principle the Soundplane is built on. I hope this demo showed some possibilities for exploring DIY sensors. When I get time, I would like to post some more detailed instructions on working with this simple technique.



Thanks all for coming, for asking the good questions, and to Robotspeak for hosting me! It was great to meet some more of my interweb friends in person.
Sounds like a bug, I will look into it for version 1.3.
Granted! but not until 1.3. Thanks for the nice feedback.
Good! Enjoy. I need to do a better job of pointing people at it.
If you live in the Seattle area, I invite you to come check out a Soundplane prototype this Saturday at the PNW Synthfest!



It's in Shoreline, WA, and runs from 10-5 or so. Details are here: mostlymodular.com. Brian is going to bring a Pro-One and we'll hook it up to the Soundplane one way or another. Stay tuned for movies of this analog encounter.


Quick work update: I've been working to finalize the materials we will be using for the surface laminate. I'm also implementing a new dynamic calibration filter in the client software. What I have now works, but I know there's a lot more sensitivity I can get out of the data I'm receiving from the hardware. I really want people to be able to feel that ASAP.
I promised I'd post a picture or two, so here I am actually doing that. My day started at Brewed Awakening in Berkeley, home of a regular morning meeting of electronic music luminaries and a damn fine Americano. Perrin Meyer, David Wessel and Adrian Freed were in attendance. Don Buchla popped in for a cup of coffee, laid hands on the Soundplane and pronounced it a worthy object. Unfortunately he had to go before I could show him Aalto. Another time, I hope.



The next demo is at Robotspeak in San Francisco, this Saturday at 4. If you're in SF, stop by!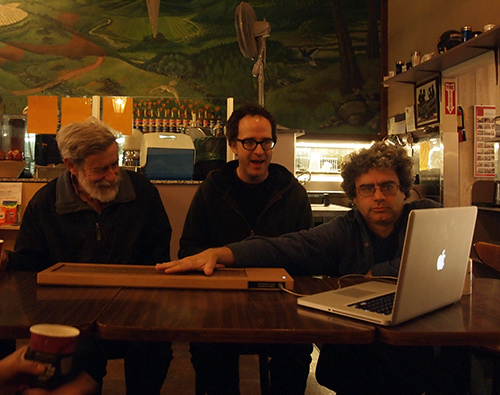 More good ideas. Doing a good UI for the configuration would take a while, but I could do the folder thing pretty quickly, and that seems very useful.
Of course I'm working hard on getting the Soundplane into production. But meanwhile, people are doing great stuff with Aalto!



Mark Mosher sent this video of Aalto, controlled with the Percussa AudioCubes. It really shows off Aalto's drone capability with a super Forbidden-Planet-style patch.


SoundsDivine just released the Chaos Ripple patch bank for Aalto. More info here: [soundsdivine.com] Some of these patches make timbres come out of my synth that I haven't heard before. And they represent a wide range of sounds. Great job!


Finally, I'd like to point out the ongoing and interesting stuff coming out of the Aalto Soundcloud page. It turned into a really thriving group where there's great new stuff almost daily, from simple sound examples to finished tracks. People are getting their modular funk on. Here's the most recent entry:


are you or are you not somehow related to Android Samba Girl. by jumpy gunderson
Thanks for this! I will definitely be adding some automation features with 1.3. I need to gather all the ideas and look at what set of them makes sense to do.
I forgot to mention, the VST version does not have this problem!
Hmmm, I hear you. What if I could map a MIDI command to next patch / previous patch? Would that be enough?
The thing is, I don't have a concept of "banks," so if I tried to allow random access into the entire list of patches, saved automation would get screwed up if you added more patches in between. But with next / previous you could automate a show.
This has been a known bug for too long. Unfortunately it has been very hard to fix. Thanks for your patience.
Added checking this out to the 1.3 list -- thanks.
I just got back from a whirlwind trip to NYC to show the Soundplane at the Expo74 event put on by Cycling '74. I got to meet a few of the first ever Soundplane owners in person (hi guys) and to see lots of old friends from the Max/MSP world.


Soundplane got to meet Monome and Arc for the first time! Awwwww: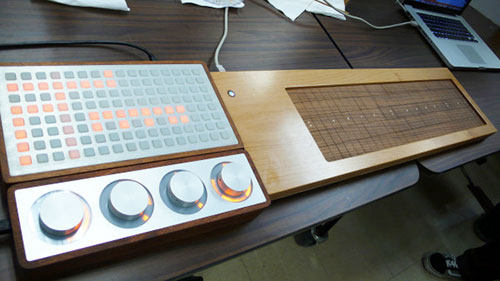 Just a little news for current and future Soundplane buyers. 14 Soundplanes have been reserved, so 16 remain out of the first batch of 30. Preorders keep coming in one by one, so I am hopeful that after my trip down the coast, I will have sold out the initial batch. By then, we will also have quotes from our suppliers, so we may be able to go ahead with production in any case if we are within arm's reach of 30.


I'm setting up a payment system that will work for future preorders as well as European customers. Mostly this means waiting for banks and such at the moment. So, EU customers especially, stay tuned.
Well, this was a big week for Soundplane! Lots of people came by to find out about them and play with one. I'm very happy to share this video of some of the results.
We will be taking preorders very soon. Stay tuned for the official announcement on how to go about getting a Soundplane Monday morning. Sorry for the slight delay on this, but I have some details to work out and I want to enjoy some more of the great music at Decibel this weekend.
You can solve any problem like this with unit cancellation.
you have: (beats / minute)
you want: Hz (beats / second)
(beats / minute) * (1 minute / 60 seconds) = (beats / second)
In other words divide by 60.
There are two default directories. In English these are called (your home directory) / UserData for your presets and C: / AppData / Roaming for factory presets. So, for user presets I would look for some directory like "C:/...(home)/UserData" but in Portuguese.
Or, you could search your disk for some of the user presets like "Alessandro's Machines".
Our new system is a controller, so I don't know what you mean.