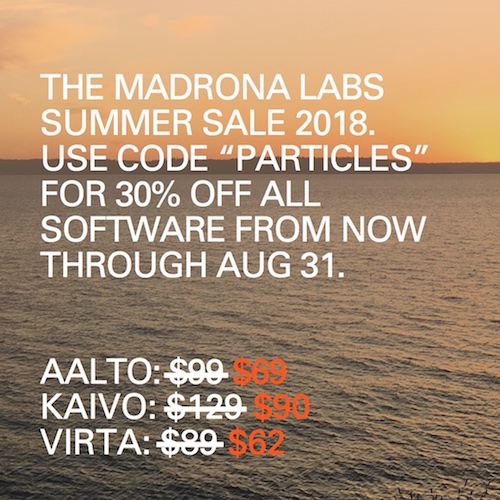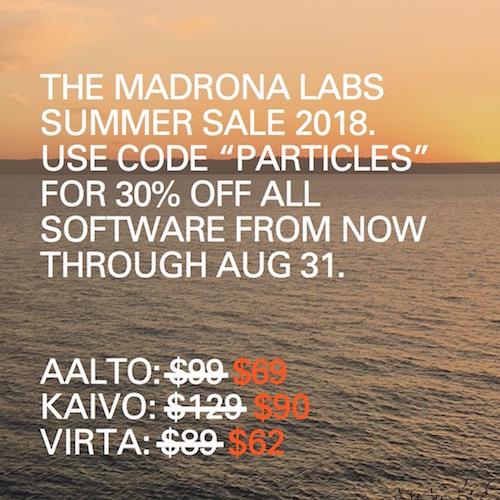 Dear music makers,
In appreciation for your support, Madrona Labs is having a summer sale this year. Use the code PARTICLES on any of the product pages to get 30% off any Madrona Labs plugin. From now through the end of August.
hi, i use your plugins since years..they are absolute outstanding..i even used them with the unregistered noise..thanks for this really great software..kind regards bernhard
Please consider doing incremental discount, like -30% for 1 plugin, -50% for 2, -70% for all 3? Or something :) I'd love to finally get Aalto & Kaivo but as is I'll only get one of them.
70% for 3 outstanding excellent and long term maintained plugins with free updates-policy??? I think your wishes dust your mind a bit :o)
Randy is for sure someone who really earns butter for his bread and that should be tolerated with paying reasonable prices. I understand your needs for wanting all of his plugins...I recommend starting to save some money and wait till the next sale. You will have a good feeling when buying one excellent product plus supporting one great and standing out developer doing so. I think you will also appreciate the VST more as getting it nearly as "a gift" or a "steal" ;o)