interview by Geeta Dayal
At age 29, Kaitlyn Aurelia Smith is a rising star in the world of electronic music. Her music was shaped by her years spent exploring the pastoral landscapes of Orcas Island in the Pacific Northwest, which led to a chance encounter—via a neighbor—with a Buchla 100 modular system. This, in turn, led to an affinity for the Buchla Music Easel, a unique, portable synthesizer invented in the 1970s. After several experiments with releasing her own material, her first full-length album, Euclid, was released in 2015 on the label Western Vinyl. Her new album, EARS, is receiving major acclaim; NPR recently raved that it "elevates the warm pulse of the Music Easel into the realm of the divine" and Spin wrote that Smith's album is "startlingly, richly fulsome, commingling the mysticism of Smithsonian Folkways LPs, IDM's furrowed futurism, and the free fall questing of Laurie Spiegel's 1980 landmark, The Expanding Universe."
What drew you to composing electronic music in the first place? Can you talk about some of your early inspirations?
I studied orchestral music and composition in school, and my first introduction into making electronic music was on a Buchla 100. Immediately I felt like I had a personal orchestra at my fingertips with only my time to worry about.
In the beginning of my experience with electronic music, listening was my inspiration. Taking time to listen to one oscillator and then adding another and hearing how they interact. I spent a lot of time with the Buchla 100 trying to learn what It seemed like the machine wanted to do, rather than what I wanted it to do. I found this approach to be more enjoyable and less frustrating.
You've talked a bit in interviews about the natural environment of Orcas Island in Washington, and the profound effect it had on you. Can you briefly describe the landscape, for people who have never been there?
There are endless evergreen, aspen, madrona and cedar trees. The ground is lined with thick pads of moss. Lots of mushrooms. It is an island in the Puget Sound, so it is surrounded by other islands that look very similar. No poison oak. Lots of deer, rabbits, hawks, eagles. A lot of moisture in the air.
I was struck at how you are able to coax beautifully tonal music out of the Buchla Music Easel. It's not an easy instrument to play in the way that you do. Can you talk about why and how you use the Easel? Some of your techniques and tricks?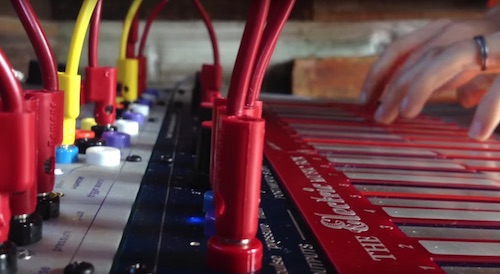 Thank you. I approach the Easel in a similar way that I did the 100 but with a bit more intention now. I have spent enough time with it that it feels like an extension of my limbs, like how an acoustic instrument does. When I am composing, I use a mixture of intention and happy accident to guide the intention. If I could, I would use a Buchla 200 but since I don't have access to one, I am more than happy with the Easel. When I compose electronic music, the electronic part is always secondary to me. Composition is first.
You've used a combination of hardware and software instruments. Can you talk a bit about how you've used Aalto?
I love Aalto; it feels like a software version of a Buchla. Very intuitive to work with. Inspiring interface. It has a very complimentary tone to the Buchla. I like to map it to a hardware device and compose with it in real-time along with the Easel.
What's your setup like at home for making music? How do you work?
My setup changes a lot depending on the project. Sometimes it is just a piano and sheet music; sometimes it is notation from Finale sending MIDI to the Easel; sometimes it is really elaborate with many synths connected to each other using the same clock, and a vocal mic so I can make everything in real time.
I find that I create best when I experience novelty, so I tend to not stick to a routine or similar setup when I create.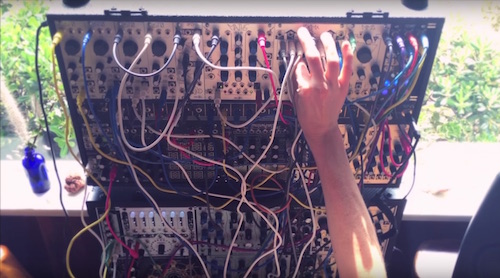 What are your plans for future projects? What are you looking forward to in the coming year?
I have a new album that I am very excited about — it combines synthesis with orchestral instruments and voice. I will be touring a lot over the next year and making more music.
Kaitlyn Aurelia Smith's EARS is now available from Western Vinyl and at bandcamp.com.
Beautiful, sunny-sublime album.
Wow, this music is powerful! Instant shivers.
Love her recordings. I am playing the records in heavy rotation. Thank you for sharing this article.