randy's Recent Posts
version 1.8.3
April 23, 2019
link: Soundplane 1.8.3.dmg, 6MB
release notes:
To install this version: move the "Soundplane" application to your Applications folder, then move the directory "ZonePresets" to ~/Music/Madrona Labs/Soundplane.
When you launch the Soundplane application, the menu at the top of the "Zones" page should contain three presets: chromatic, rows in fourths and rows in octaves, followed by a list of all the JSON files in the ZonePresets folder. If the JSON files do not appear, the ZonePresets directory is probably not in the right place.
The format of the zone .json files is human-readable and relatively self-explaining. Take a look to see how to make your own zone maps.
The Soundplane Max/MSP examples require the CNMAT Max externals to run. These can be found at http://cnmat.berkeley.edu/downloads .
The Soundplane application is open-source, available under a permissive license. For source code and more technical information see http://github.com/madronalabs.
changes:
1.8.3:
fixed issue with excessive CPU use / repainting since 1.8.0
1.8.0:
cmake build rewritten for compatibility with new madronalib and soundplanelib.
fixed graphics incompatibilities with OS X Mojave
fixed controller Zone outputs and reduced redundant data output
1.7.0:
fixed possible crash starting for the first time with Kyma connected
"destination port" menu now allows connecting to other hosts on the local network
added wait on startup to resolve ports on other hosts
added clear all notes when switching OSC destinations and on shutdown
added test pattern mode
allow running app hidden / in background without added latency
fix redundant calibrate on startup
fix a stuck notes issue
add quick recovery after unplug / replug instrument
1.6:
improved isochronous USB driver: lower latency, allows restart after pausing app
fixed an issue selecting cleanest carriers after "select carriers"
fixed possible crashes on startup/shutdown
now distributing as signed .dmg
1.5:
new touch tracker algorithm:

consumes much less CPU
improved latency
improved pressure sensitivity
improved pressure uniformity
improved position accuracy
allows better tracking into corners
lengthy normalization step no longer required
fixed hanging touches

fix Kyma connection
improve selection of lowest-noise carrier set
fix a possible crash when switching zone presets
fixed a window-related crash on shutdown
fixed latency issue when in background for an extended time
1.4:
fixed a problem with MIDI output preventing slide between rows
tweaked pre-touch filtering for lower noise
(dev) new cmake-based build system
(dev) experimental Linux build
(dev) added HelloSoundplane command line app for low-level testing
1.3:
MPE MIDI support. Requires Aalto 1.7 / Kaivo 1.2.
Implemented note splits to multiple ports over OSC.
Improved stability and sensitivity of MIDI velocity
changed "z max" control to more intuitive "z scale."
fix crash with uninitialized driver on shutdown
allow 1-500Hz MIDI data rate
fix bug where pressure wasn't getting set w/o a MIDI connection
send quantized pitch bend on MIDI note off
fix touch tracker issues including zone-switch bug
fix to allow MIDI note 0
fix for double note off problem
fixes for MIDI glissando
1.2.5:
[1.2.5.1] Fixed a crash on startup if no preferences folder was present.
Kyma listener off by default to fix collisions on port 3124. Use 'kyma' toggle on Expert page to turn on.
fixed automatic connection to selected OSC service on startup.
restored some values from 1.1.2 to improve touch tracking.
add automatic saving of window dimensions. This is saved in /Application Support/SoundplaneViewState.txt.
fixed a problem resolving OSC services
fixed wrong MIDI note offsets in default Zone setups
1.2.4:
rendering fixes for Retina display
make touches easier to get into top and bottom rows
code signing application
turned Kyma polling over MIDI OFF by default
fixed some state issues on startup that required reselecting zone to refresh
clamp zone outputs to [0, 1] as documented
fix touch rotate bug
fix OSC browser
made normalizing easier and mre accurate
sending out x, y, and z from zones via MIDI.
1.1.2:
more complete fix to the note-off problem
restored the note lock feature for new zones.
fixed an odd font-related bug
1.1:
PLEASE NOTE: moved support files to ~/Music/Madrona Labs.
fixed a problem where the wrong note value was sent on note-off
fixed a potential crash sending MIDI if a MIDI device was not set
made benign errors less alarming
1.0a2:
two new kinds of zones: z (pressure only) and a toggle switch.
fixed an error where inactive touches were continuously sending their data
shortened some JSON zone names (just remove "controller_" to fix your presets)
updated Max/MSP examples
moved matrix message into t3d OSC bundle with touches
restored some debug printing in the in-app console
added error info for JSON parsing
fixed possible bug with zone parsing
clarified the T3D format in docs
fixed an error reading calibration files
fix view issues for Retina display
1.0a1:
-new Zone features allow mapping notes and controllers to key grid
-changed t3d format for wider OSC compatibility
-OpenGL accelerated graphics
-fixed graphics for Retina display
-fixed a bug where SoundplaneController was initialized twice
-fixed OpenGL errors on quit
-fixed a possible crash in adjustPeak()
-fixed note release when quantized
-new raw matrix output
Thanks, I'm on top of this... I like Numerology :-)
FYI I can duplicate this in Numerology.
Did you try other hosts? Is it still broken in Numerology?
with Aalto 1.8.5? Are you still using Live 10.0.5? What OS version?
No I haven't seen any crashes like this. Next time you get one please send a crash log.
Yeah, these are complicated systems, especially when using things like Max and a bunch of plugins—adding more processing / threads can easily manifest a bug in some other piece of code somewhere that just wasn't showing up otherwise. Likewise I can't rule out Aalto as being the problem just because it's not crashing in Aalto's code.
You could also try leaving Aalto and removing all other plugins that aren't part of Live—if this eliminates crashing then finding the offender should be quicker.
I don't see a problem with this. Will add to my Kaivo list.
This year it seems desirable and possible for Madrona Labs to make a Soundplane to CV device. This would be primarily a Eurorack module, but the circuit could also be built into its own enclosure for use with vintage synths etc.
Normally I do most of my design work in private, and only announce a product when it's pretty much done. But we (Brian and I) are going to change it up this time. Because neither of us is that deeply into the Eurorack world, it makes sense to solicit input early on in the process this time. This is going to be a utility device (though hopefully an elegant one) — so before we get too far along, let's make sure it will be useful to you!
The basic idea
USB jack for powering the Soundplane. Module puts out CV / gates / mod outputs for individual touches. Like the Soundplane app, a zone map decides how the Soundplane surface is divided up into notes and what those notes are. You can switch between zone maps, and the name of the current one should be displayed somehow. Aside from this, visual feedback will be at least an LED per Z value. To keep costs low, probably nothing too graphical or fancy.
We're looking for input on things like:
How many voices?
Each voice of touch output will probably have 4 outputs for pitch, x, y and z. Setting up many voices on a modular is not the way most people use them, so I'm guessing that two voices of output will take care of 90% of what people want. We would probably add an expander module for more voices.
Any interesting modes?
A switch that changes z (pressure) into a strict on/off gate might be useful. Any other things like this?
Layout?
individual voice groups vertical or horizontal? voice outputs at bottom or top? I'm thinking top, because a USB jack on the bottom will go to the Soundplane.
Power?
The module will need roughly 250mA at 5v to power the Soundplane. Brian will correct me if I'm wrong. Then there's whatever computing and display the module needs to do, and the outputs. Do we need our own power supply, or a list of compatible Euro power supplies that we can point people to? Any choices in connectivity to make here?
Finally, we're still looking for a great name…
I will be very excited to share news when there is any. For the time being I have to work on software.
This crash does not look Aalto-related. I would send it to Ableton support.
You can usually tell what crashed by looking where the report says "thread crashed" which is 0 in this case. Then look down to thread 0. The first column of info is numbers, the second is the running process. in this case it's all Live and macOS.
I don't know of any crashing problems with 1.8.5. Please keep me posted.
I updated the Soundplane app to work with OS X Mojave. The signed 1.8.0 dmg is available at the above link.
This update also fixes recent bugs with controller messages and reduces redundant data output.
I definitely plan to add more models.
Hey @shadowmusic, thanks for your patience. I don't usually work on Sundays but I was at the computer today so I'm glad I was able to help you out.
Not sure why I missed the above message... Sorry about that, I hope you found the way by now.
interview by Geeta Dayal
At age 29, Kaitlyn Aurelia Smith is a rising star in the world of electronic music. Her music was shaped by her years spent exploring the pastoral landscapes of Orcas Island in the Pacific Northwest, which led to a chance encounter—via a neighbor—with a Buchla 100 modular system. This, in turn, led to an affinity for the Buchla Music Easel, a unique, portable synthesizer invented in the 1970s. After several experiments with releasing her own material, her first full-length album, Euclid, was released in 2015 on the label Western Vinyl. Her new album, EARS, is receiving major acclaim; NPR recently raved that it "elevates the warm pulse of the Music Easel into the realm of the divine" and Spin wrote that Smith's album is "startlingly, richly fulsome, commingling the mysticism of Smithsonian Folkways LPs, IDM's furrowed futurism, and the free fall questing of Laurie Spiegel's 1980 landmark, The Expanding Universe."
What drew you to composing electronic music in the first place? Can you talk about some of your early inspirations?
I studied orchestral music and composition in school, and my first introduction into making electronic music was on a Buchla 100. Immediately I felt like I had a personal orchestra at my fingertips with only my time to worry about.
In the beginning of my experience with electronic music, listening was my inspiration. Taking time to listen to one oscillator and then adding another and hearing how they interact. I spent a lot of time with the Buchla 100 trying to learn what It seemed like the machine wanted to do, rather than what I wanted it to do. I found this approach to be more enjoyable and less frustrating.
You've talked a bit in interviews about the natural environment of Orcas Island in Washington, and the profound effect it had on you. Can you briefly describe the landscape, for people who have never been there?
There are endless evergreen, aspen, madrona and cedar trees. The ground is lined with thick pads of moss. Lots of mushrooms. It is an island in the Puget Sound, so it is surrounded by other islands that look very similar. No poison oak. Lots of deer, rabbits, hawks, eagles. A lot of moisture in the air.
I was struck at how you are able to coax beautifully tonal music out of the Buchla Music Easel. It's not an easy instrument to play in the way that you do. Can you talk about why and how you use the Easel? Some of your techniques and tricks?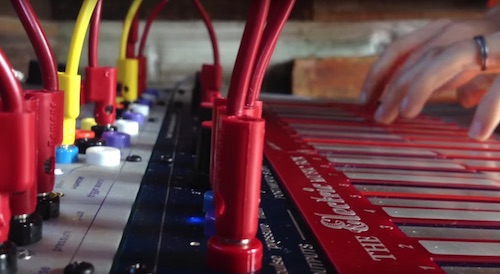 Thank you. I approach the Easel in a similar way that I did the 100 but with a bit more intention now. I have spent enough time with it that it feels like an extension of my limbs, like how an acoustic instrument does. When I am composing, I use a mixture of intention and happy accident to guide the intention. If I could, I would use a Buchla 200 but since I don't have access to one, I am more than happy with the Easel. When I compose electronic music, the electronic part is always secondary to me. Composition is first.
You've used a combination of hardware and software instruments. Can you talk a bit about how you've used Aalto?
I love Aalto; it feels like a software version of a Buchla. Very intuitive to work with. Inspiring interface. It has a very complimentary tone to the Buchla. I like to map it to a hardware device and compose with it in real-time along with the Easel.
What's your setup like at home for making music? How do you work?
My setup changes a lot depending on the project. Sometimes it is just a piano and sheet music; sometimes it is notation from Finale sending MIDI to the Easel; sometimes it is really elaborate with many synths connected to each other using the same clock, and a vocal mic so I can make everything in real time.
I find that I create best when I experience novelty, so I tend to not stick to a routine or similar setup when I create.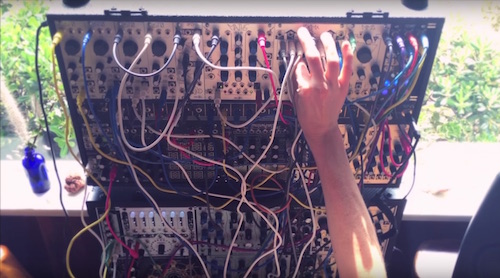 What are your plans for future projects? What are you looking forward to in the coming year?
I have a new album that I am very excited about — it combines synthesis with orchestral instruments and voice. I will be touring a lot over the next year and making more music.
Kaitlyn Aurelia Smith's EARS is now available from Western Vinyl and at bandcamp.com.
If you want to get the same effect as the bug, you can add a square wave at half your sampling rate to the output. That is really all that was happening. I don't doubt that you found some kind of magic in it somehow, but there is no way this will become part of the instrument on purpose.
You can also continue to use the version with the bug, if you so desire!
An update of Aalto and Kaivo to version 1.8.4 is available now on the product pages. This fixes a few compatibility issues that showed up in recent versions of Live, and a bug introduced in version 1.8.3 where Kaivo would stop making reasonable sound.
Aalto and Kaivo changes:
removed debug code that was causing a crash in certain hosts
streamlined OSC services
add master_tune program parameter, accessible via program text
fixed t3d input in unison mode
Kaivo-only changes:
fixed a filter bug that could lead to runaway noise
improve interpolation filters in Body
The master_tune parameter addresses the need of some players to move the reference pitch of A to some value other than 440 Hz. This parameter is saved with each patch. To edit it, first select "copy to clipboard" to get the patch as text then paste into a text editor. Change the value after "master_tune", and then paste the text back into the plugin using "paste from clipboard." I'll be adding a UI for this feature in the future but for now, this works and lets you tune Aalto to your old piano or whatever.
The interpolation filter change to Kaivo should not be too obvious, but may be noticeable as a reduced harshness when sending bright tones to the body.
Hi, no I haven't sent out an email about this. I have been waiting to finish something else I'm working on so I can combine the two news items into one message. I'll send it out soon in any case. best.
No worries... Audio CPU use should be more or less the same in 1.8.5. I've changed a lot of interface timer code so UI stuff may feel snappier, which I don't have a good way of quantifying but it does feel better to me.
OK, the 1.8.5 release for Mac and Windows is posted.
I figured this out. Update today or tomorrow.
@datolar to go back to older versions, you may have to delete the newer DLLs manually before running the installer.
@datolar If you want to go back to an older version, you must remove the Aalto DLL files manually before running the installer.
Also it looks like there's no released version of Live that supports VST3. If you are trying to use a Live 10.1 beta please let me know. I can't support beta versions of hosts, but I'll be willing to try running it to track down any issues.
All the updates are available from the main product pages as usual.
I'm trying in Windows 10 as well as Mac OS and have experienced no crashes. Sorry for the difficulty. I have no idea what is going on but I'll hopefully find out soon with your help.
When you report an issue, please please send also all the version numbers of your OS and host! Not just the names like "10 Suite" or "High Sierra" but the numbers e.g. "Live 10.0.6" and "Mac OS version 10.13.1".
If you got a crash please send Ableton or MacOS crash logs to: support@madronalabs.com
I do not make a VST3 version of either Aalto or Kaivo. If you are seeing that a VST is present, where do you see this information?
If you have Live 10 but less than 10.0.6, please upgrade to the latest version of Live because there are known issues with plugins in 10.0.3, -4.
It's working here for me in Bidule, Windows 10 x64.
I would make sure you don't have any additional copies of Aalto around. I'm not sure yet but it's possible the new Aalto may be causing a crash in this situation where the old one handled it OK.
Also please update to the latest Bidule (0.9761) if you can, so we rule out a difference there—I tried to make Bidule scan a duplicate Aalto VST but it is smart and won't allow it, so I can't duplicate this problem yet.