randy's Recent Posts
Yes, one wonders how or if they are going to do that! I have not yet tried this but I'm interested to find out if it's "commercial quality" in terms of efficiency, sound quality etc.
Thanks for the idea. My initial reaction is, this adds such a great amount of complexity and that's something I am trying to avoid. I wonder if there's a way to make multiple instances of the plugin work better together to achieve what you want.
I'm imagining how this could be done in a future modular environment (as always) with one KEY module and several sub-instances of the plugins. This has the advantage that you can mix Aalto, Kaivo, etc.
Currently in Aalto each voice has its own send to reverb, however they all share the same reverb.
That's odd, I'll look at it. If you are not using the example patches that ship with the software, can you please zip up your MIDI Programs folder and send it to me so I can reproduce?
It's still in flux. I'd hate to tell you something and then end up having been wrong. I think we can safely say it will be less wide than it is high. (how many HP is a square anyway?)
There is a beta out, which you probably saw, you can find in another thread. This should fix the sequencer issue. If you need this fix you can use the beta temporarily. I still have some other issues related to tuning files to solve.
This particular beta period has been longer than usual getting to completion—thanks for your patience.
If you are interested in helping out with testing, you can use the beta and give me feedback. If you are more interested in getting music made, use a stable version (in this case, 1.3.2). This beta process has been longer than usual and hopefully will be wrapping up soon.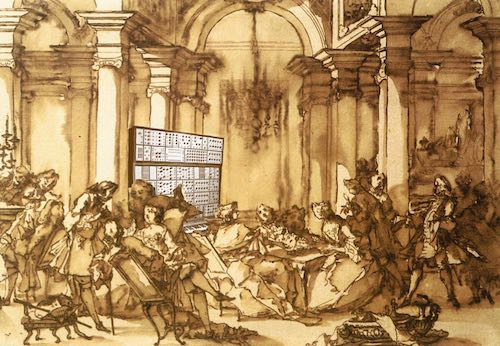 The Seattle Music Machine Salon is a new monthly discussion group, open to all and free of charge. Each month we'll have a presentation and a guided discussion on some aspect of making music with computers and electronics. Topics will include the practical and the not so practical: new software and hardware tools, compositional strategies, academic and popular styles of electronic music, its history and future.
Our first event is Friday, March 4 from 7 to 9pm at Ada's Technical Books in Capitol Hill. Ada's offers a comfortable, inspirational atmosphere, and great food and coffee. They are at 425 15th Ave East. Please visit their site at http://www.seattletechnicalbooks.com/ for more info and directions.
Everyone is welcome! This includes all ages and skill levels. The aim is to create a diverse group that will expand viewpoints and spark new projects. The only requirements are an interest in the topic and the ability to engage in respectful discussion.
March 4 presentation:
Randy Jones of Madrona Labs will demonstrate his new software instrument Virta, a patchable, sound-controlled synthesizer and effects toolbox.
March 4 discussion topic:
Seattle electronic music resources. What are some important foundations of the local scene for you? What are some less visible resources that should be better known?
Yes, we do one most months. A couple of times this summer we cancelled because it seemed like everyone would be out of town. There's a website: http://seattlemusicmachines.org/ and a mailing list you can sign up to from the menu on it.
I've had many requests for this. It will happen.
Cool, thanks for sharing!
I can't think of any reasons why that wouldn't work. Keep me posted!
I can also look at making the behavior more predictable when changing the number of voices. That is not something I ever thought about using as a kind of performance control, so I didn't test it in that use. But it seems useful, so I'll put it on the list.
The beta that's currently out for Mac should have a fix for the sequencer retrig issue.
Any modern Mac should work. Personally I buy refurbished ones from Apple's online store usually.
You could use the "vox" output of the key module to send a different x offset of the granulator position to each voice. This should be more predictable than trying to change the number of voices on the fly.
I'm working on software currently alongside plugin work. The Soundplane touch detector has to be rewritten in order to work on our embedded boards.
I searched the forum and found a potential solution: try turning on "Force MPE" in Bitwig.
I know people are using Aalto in MPE mode with Linnstrument. I'm not sure if this works in Bitwig, but it should. It should work in demo mode also. Did you change the protocol to MIDI MPE in the settings (gear) menu? Aside from that, there is nothing else to do in Aalto.
Possibly, check your DAW channel settings in Bitwig.
I'm finishing up this bugfix release currently. Please stay tuned!
You bring up an area where Virta can really be improved. I appreciate the feedback. With the current system you "can do anything" by choosing or making the right Scala files... but it's not easy to just pick, say, G dorian as you say.
I'm currently working on the code that reads Scala files to fix some bugs and make it more flexible. Then building on that foundation I can add some built-in mappings that will make it easier to select a given scale or mode without making a new file.
the bend dial in the KEY module controls how much MIDI pitch bend will affect the pitch. Then, you can see the changing pitch signal in any dials you have it routed to, probably the complex oscillator pitch, for example.
Thanks for the nice feedback!
Thanks for the add'l info. I still have it on my list to check out Virta at 96k more deeply.
Hi Richard, Aalto will play at A=440Hz by default. There's no master tune setting either (for now), so it's safe to say the issue is not within Aalto. I'd look to your DAW settings or MIDI controller or... ?
No technical reasons, I just have a long list of things to do. I'll probably add this to the Aalto 2 release and update the other plugins thereafter.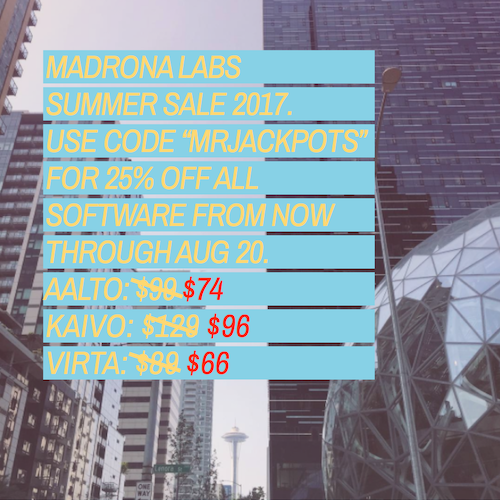 Dear music makers,
In appreciation for your support, we are having a summer sale this year. Use the code MRJACKPOTS on any of the product pages to get 25% off any Madrona Labs plugin. From now through August 20.
photo: @photoboothkt
Much more likely to happen in Virta! I want Aalto's reverb to be a super-simple, one-knob device in the spirit of the Arp 2600.
Whoops, I meant to expire it tomorrow—fixed!
from Pancycle Music:
http://www.pancyclemusic.com/aalto-my-latest-software-synth-addiction/
{
"delay_input":0.670000,
"demo":0,
"licensor":"",
"seq_trig":0,
"key_voices":2,
"key_mod":1,
"key_bend":7,
"key_unison":1,
"key_glide":0.010000,
"seq_wave":0,
"seq_local":1,
"seq_host":0,
"seq_loop":1,
"seq_rate":0.444000,
"seq_ratio":1,
"seq_rate_p":0,
"seq_steps":16,
"seq_steps_p":0,
"seq_offset":0,
"seq_offset_p":0,
"seq_range":12,
"seq_quantize":0,
"seq_glide":0.770000,
"seq_pw":50,
"seq_value_delay":3.500000,
"seq_pulse_delay":0,
"seq_value0":0.500000,
"seq_value1":0.308658,
"seq_value2":0.146447,
"seq_value3":0.038060,
"seq_value4":4.996004e-16,
"seq_value5":0.038060,
"seq_value6":0.146447,
"seq_value7":0.308658,
"seq_value8":0.500000,
"seq_value9":0.691342,
"seq_value10":0.853553,
"seq_value11":0.961940,
"seq_value12":1,
"seq_value13":0.961940,
"seq_value14":0.853553,
"seq_value15":0.691342,
"seq_pulse0":0,
"seq_pulse1":0,
"seq_pulse2":0,
"seq_pulse3":0,
"seq_pulse4":0,
"seq_pulse5":0,
"seq_pulse6":0,
"seq_pulse7":0,
"seq_pulse8":0,
"seq_pulse9":0,
"seq_pulse10":0,
"seq_pulse11":0,
"seq_pulse12":0,
"seq_pulse13":0,
"seq_pulse14":0,
"seq_pulse15":0,
"lfo_freq":0.420000,
"lfo_noise":0,
"lfo_level":0.710000,
"lfo_level_p":0,
"lfo_freq_p":-2.400000,
"env1_attack":0.180000,
"env1_decay":1,
"env1_sustain":0.170000,
"env1_release":1.260000,
"env1_level":1,
"env1_xvel":1,
"env1_trig_select":1,
"env1_attack_p":-1,
"env1_decay_p":0,
"env1_release_p":0,
"env2_repeat":0.429688,
"env2_delay":0,
"env2_attack":0.190000,
"env2_sustain":0,
"env2_release":0.290000,
"env2_xvel":0,
"env2_trig_select":1,
"env2_xenv1":1,
"env2_delay_p":0,
"env2_attack_p":0,
"env2_repeat_p":1,
"osc_noise":0,
"osc_ratio":2,
"osc_offset":0.000003,
"osc_index":3.910000,
"osc_timbre":0,
"osc_pitch":110,
"osc_waveshape":0,
"osc_noise_p":0,
"osc_ratio_p":0,
"osc_offset_p":16,
"osc_index_p":-5,
"osc_timbre_p":0,
"osc_pitch_exp_p":1,
"osc_pitch_lin_p":4,
"osc_waveshape_p":0,
"osc_carrier_out":0.460000,
"osc_mod_out":0.460000,
"gate_level":0,
"gate_mode":1,
"gate_decay":1,
"gate_level_p":1,
"delay_peakfreq":1000,
"delay_drive":0.620000,
"delay_peakres":0,
"delay_feedback":0.340000,
"delay_freq":13.750000,
"delay_input_p":0.500000,
"delay_peakfreq_p":1,
"delay_drive_p":0,
"delay_peakres_p":0,
"delay_feedback_p":0,
"delay_freq_p":2.360000,
"delay_output_wet":1.520000,
"delay_output_dry":1,
"filter_cutoff":366,
"filter_q":0,
"filter_mix":-0.372491,
"filter_cutoff_p":-3.320000,
"filter_q_p":0,
"filter_mix_p":0,
"output_input_gain":1,
"output_reverb":0.200000,
"output_pan":0,
"output_reverb_p":0.200000,
"output_pan_p":0,
"patcher_matrix":{
"type":"signal",
"width":14,
"height":31,
"depth":1,
"data":[0, 0, 0, 0, 0, 0, 0, 0, 0, 0, 0, 0, 0, 0, 0, 0, 0, 0, 0, 0, 0, 0, 0, 0, 0, 0, 0, 0, 0, 0, 0, 0, 0, 0, 0, 0, 0, 0, 0, 0, 0, 0, 0, 0, 0, 0, 0, 0, 0, 0, 0, 0, 0, 0, 0, 0, 0, 0, 0, 0, 0, 0, 0, 0, 0, 0, 0, 0, 0, 0, 0, 0, 0, 0, 1, 0, 0, 0, 0, 0, 1, 0, 0, 0, 0, 0, 0, 0, 0, 0, 0, 0, 0, 0, 0, 0, 0, 0, 0, 0, 0, 0, 0, 0, 0, 0, 0, 0, 0, 0, 0, 0, 0, 0, 0, 0, 0, 0, 0, 0, 0, 0, 0, 0, 0, 0, 0, 0, 0, 0, 0, 0, 0, 0, 0, 0, 0, 0, 0, 0, 0, 0, 0, 0, 0, 0, 0, 0, 0, 0, 0, 0, 0, 0, 0, 0, 0, 0, 0, 0, 0, 0, 0, 0, 0, 0, 0, 0, 0, 0, 0, 0, 0, 0, 0, 0, 0, 0, 0, 0, 0, 0, 0, 0, 0, 0, 0, 0, 0, 0, 0, 0, 0, 0, 0, 0, 0, 0, 0, 0, 0, 0, 0, 0, 0, 0, 0, 0, 0, 0, 0, 0, 0, 0, 0, 0, 0, 0, 0, 0, 0, 1, 0, 0, 0, 0, 0, 0, 0, 0, 0, 0, 0, 0, 0, 1, 0, 0, 0, 0, 0, 0, 0, 0, 0, 0, 0, 0, 0, 0, 0, 0, 0, 0, 0, 0, 1, 0, 0, 0, 0, 0, 0, 0, 0, 0, 0, 0, 0, 0, 0, 0, 0, 0, 0, 0, 0, 0, 0, 0, 0, 0, 0, 0, 0, 0, 0, 0, 0, 0, 0, 0, 0, 0, 0, 0, 0, 0, 0, 0, 0, 0, 0, 0, 0, 0, 0, 0, 0, 0, 0, 0, 0, 0, 0, 0, 1, 0, 0, 0, 0, 0, 0, 0, 0, 0, 0, 0, 0, 0, 0, 0, 0, 0, 0, 0, 0, 0, 0, 0, 0, 0, 0, 0, 0, 0, 0, 0, 0, 0, 0, 0, 0, 0, 0, 0, 0, 0, 0, 0, 0, 0, 0, 0, 0, 0, 0, 0, 0, 0, 0, 0, 0, 0, 0, 0, 0, 0, 0, 0, 0, 0, 0, 0, 0, 0, 0, 0, 0, 0, 0, 0, 0, 0, 0, 0, 0, 0, 0, 0, 1, 0, 0, 0, 0, 0, 0, 0, 0, 0, 0, 0, 0, 0, 0, 0, 0, 0, 0, 0, 0, 0, 0, 0, 0, 0, 0, 1, 0, 0, 0, 0, 0, 0, 0, 0, 0, 0, 0, 0, 0, 0, 0, 0, 0, 0, 0, 0, 0, 0, 0, 0, 0, 0, 0, 0, 0, 0, 0, 0, 0, 0, 0, 0, 0, 0, 0, 0, 0, 0, 0, 0, 0, 1, 0, 0, 0, 0, 0, 0, 0, 0, 0, 0, 0, 0, 0, 0, 0, 0, 0, 0, 0, 0, 0, 0, 0, 0, 0, 0, 0, 0, 0, 0, 0, 0, 0, 0, 0, 0, 0, 0]
},
"key_scale":"12-equal",
"preset":"Pancycle/Keys/Saint Patrice",
"maker_name":"Madrona Labs",
"app_name":"Aalto",
"app_version":67586
}