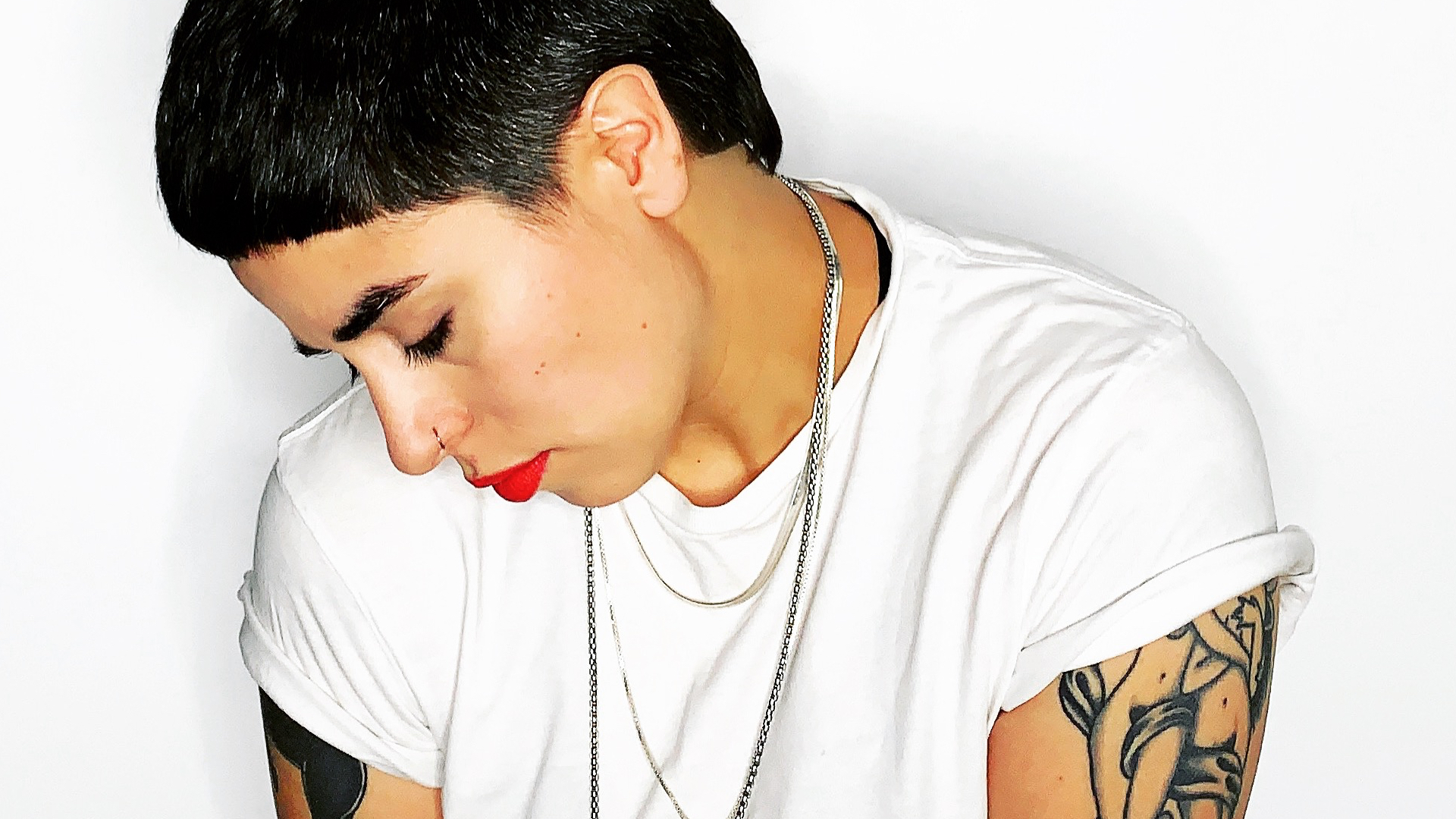 by Jason Caffrey
photo: Natasha Kmeto
Natasha Kmeto has been busy.
Since her last full-length album, Inevitable, was released in 2015, the Portland producer-vocalist has been married, divorced, and cut loose by a major Indie label. There have been endings, beginnings, and some tight turns in the road. For an artist whose creative output is anchored in her own personal narrative—Kmeto has been described as "dedicated to the art of emotional engagement"—the upheavals, detours and personal challenges of the past 12 months could perhaps only have led to one thing: fresh material. A new album is in the pipe, which Kmeto hopes will be released later this year.

"Inevitable was hampered by a lot of industry stuff going wrong," Kmeto explains. "I was signed to a major indie to release that record, and then that label delayed the release for the better part of a year before letting me know their budget had been pulled." To finally get Inevitable out into the world Kmeto turned to Dropping Gems, the label that released her 2013 album, Crisis.
But the move to a new label for Inevitable was supposed to have been her big break. "Some of my emotions attached to that material were complicated," she says. "To boot, last year I got divorced, and the majority of my material on Crisis and Inevitable was written about my ex-wife. So I've been wanting to feel like I can separate from those phases in my life for a multitude of reasons. I needed to take a break, a little bit of a reset. But then I was actually motivated to get back in and get a full-length (album) written."
Kmeto has released a single and an EP along the way: Pour Down came out in 2016, and the EP Versus/Versus dropped in April 2019. Plus, as an appetizer to the release of her new work, re-mixes of Last Time and Deeply—both from Kmeto's Crisis album—appeared in short order at the start of 2020. There are plans for those tracks to be included on re-releases of her first two albums, alongside other re-mixed material.
Emotional space
That work reflects the re-assessment and rejuvenation that have followed the tumult in Kmeto's personal and professional lives. In a social media post from the end of 2019, Kmeto said she had given up booze, started therapy, connected with ritual—and "explored non-monogamy".
"Yeah. It's been quite a year," she says, laughing. "But I can say with full reassurance and sincerity that I got through it, and I think writing this last record was really helpful. It was cathartic, but the reason I'm so excited about it is that it's really reflective of where I'm going as well." Much of her recent journey, Kmeto says, was difficult, "but a lot of it was really necessary too." And sometimes, she acknowledges, you have to "slog through your harder stuff to get to good stuff - it's been good from that perspective, for sure."
For Kmeto, honesty in the creative process is paramount. Track titles like Morning Sex and I Thought You Had a Boyfriend point to an artist ready to reveal her vulnerabilities. And listening to Kmeto's songs it is apparent that there is little daylight between her creative output and the experiences of her personal life.
"I always need to sense the intention of the artists – and have that intention be sincere and meaningful."

"I generally write about the moment that I'm in," she says, explaining that the majority of her output has been written when she felt "urgently pressed" to do so. "I feel like that in and of itself facilitates growth. So it's like the art feeds me and I feed the art." Kmeto's solo career "has always been about being really personal and really honest," she says, "and trying to convey my feelings in a way that makes me feel like I can have a release for myself." Imaginative starting points are not Kmeto's way. "I write from a very literal emotional space."
It's an approach that Kmeto learned working as a hired musician performing on studio gigs or with different bands – music that was not her own. "That didn't feel right to me," she says. "It didn't give me any level of satisfaction. In fact, I felt like it was harder for me to do, because there's something to me as a fan of music and a fan of art, I always need to sense the intention of the artists – and have that intention be sincere and meaningful.
"I think a lot of art does get created out of trying to follow a fad or copy something – or make money off of it. And for me, art and music – I want it to feel deep. I want it to feel like the intention of the composer, writer, or musician comes from a place of trying to express something meaningful.
"I just got to this place where I need to make music that I really love for me. And as a singer I never felt that I sounded that good unless I was singing like I meant it."
Eurythmics, Madonna and Prince
Kmeto acknowledges the 80s synth-pop heritage of her music, and its influence on Crisis and Inevitable in particular – two albums that reference much of the music of the '80s and '90s she grew up on. "Synthesizers have always been my favorite sound to play with," she says. "My strong influences have always been electronic music and RnB, so a lot of synths I call on are both nostalgic and future-leaning—they feel like they run into each other in a kind of cool way. I grew up listening to the Eurythmics and Madonna and Prince – and all that music, it comes through for sure."

 As a gay woman "hugely into electronic music" Kmeto is also conscious of the musical foundations laid down by LGBTQ+ artists working in electronic genres such as house music. "That's music that started from queer black people in the United States mashing two disco records together. I think it's important to pay homage to that, but also that's just the music that I feel in my soul. I feel connected to it, for whatever reason. That music has had a profound impact on me for my entire life, even before I was out as a gay person." 

In creating her own music, Kmeto draws strongly on her training as a songwriter. But it was early experiments with sampling that helped her go beyond learned conventions, and became key to Kmeto finding her own voice, as a producer as well as a singer. "After going to music school I think I had a really rigid understanding of how songs ought to go," she admits. "And so to break free of that, the first stuff I started working on was sample-based."
Kmeto had fun, side-stepping a theoretical approach and concentrating on the simple pleasure of creating. "I would just put sample-based beats together and then sing over it. Working with samples helped me get into sound design too, which I consider an equal part of my song-writing experience.
"You can write a song with chords and lyrics and obviously that's important. But sound design, and how the song is produced is also a huge part of how music is written today. As I got more comfortable with my workflow, I started songs from melodies and was able to construct and build around that."
Choosing colors 


Mindful of the "literally millions of sounds" offered by a typical DAW, Kmeto is careful to curate the sounds she works with. "Every release starts with a palette. I choose a selection of sounds I'm going to use so it doesn't get overwhelming," she explains. "I've always been into the idea of collections, or how some artists will do a show that's all inspired by the same medium. Like fashion designers—they'll pick their textiles and work within that structure. To me that's always been helpful."
And as a singer who also produces her own work, Kmeto maintains a high degree of control over the aesthetics of her songs—something she particularly values when it comes to treating her own vocals. Not wanting to make the beats "second-hand" to her voice, Kmeto often uses reverb to seat both elements in a common space. "I love a big washy reverb or delay moment in a song," she laughs. "I've always liked wet vocals, I think they sound cool. And I can sound more like an instrument."
Like all artists, Kmeto has favorite tools that she reaches for again and again. At the top of the list comes a Peluso P67 microphone. Like a scene out of The Blues Brothers, she sold her car to buy it. "I love it," she says, "I haven't regretted it." A Korg Minilogue "routed through a bunch of guitar pedals" is another firm choice. Then there are the plug-ins.
"Valhalla makes a reverb that I use pretty religiously, and I really like (Waves) Vox for vocal compression – you either love it or you hate it," she says. "And I have Madrona Labs' Kaivo, which is their granular synth. It's just beautiful," Kmeto continues, "even the presets are amazing."
Kmeto used Kaivo on the track Eyes, which appeared on her Versus/Versus EP. "The reason I was drawn to it is that you can create a granular synth out of your own samples, and I wanted to create a synth out of my voice. I love it."

A new single, trust issues, is out on a Future Archive Recordings compilation, and she plans to release her next album in the fall, though she won't be drawn on the details. "We don't have anything announced just yet—I'm still working on getting it mastered." But after all that has happened since Inevitable, the prospect of striking fresh ground is animating Kmeto with a new energy. "I'm excited to get it out," she says, "excited to get it done."