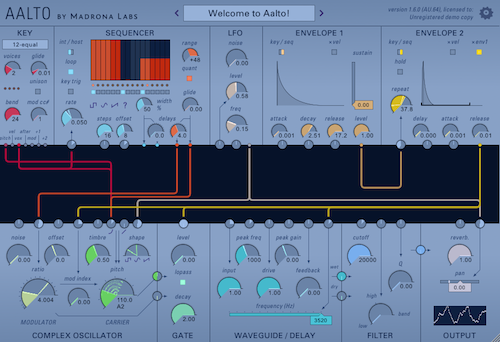 Version 1.6 of Aalto is now available for Mac and Windows. This version contains many improvements for efficiency and host compatibility.


New in Aalto version 1.6:
both AU and VST versions now use .mlpreset files in new JSON format
added preset converter to convert all old presets to new format
presets directory moved to ~/Music/Madrona Labs
improved speed of preset loading
fixed a problem with keyboard stealing in 64-bit VST
now saving window size state properly in compatible DAWs
fixed an issue with the oscillator and extreme pitch modulation
added OSC enable / disable and port offset (Mac OS)
sequencer now quantizes to currently selected musical scale.
fix parameter loading when no DSP is active in application (for Max/MSP and Vienna Instruments)
fixed problem with sequencer retrig
fixed defaults for envelope trigger and x vel
added defaults to make MIDI patches more compatible with Soundplane / t3d
added clearer display of multiple channels in scope dials
fixed a bug affecting MIDI timing
added multi-channel MIDI receive for voice-per-channel operation with Soundplane / t3d
fixed an issue affecting Save as... on some systems
improved graphics performance
fixed a problem that prevented MIDI program changes on some systems
fixed bug when no MIDI Programs folder was present
Scala keyboard mapping files (.kbm) now loaded if present in scales directory with same name as
scale
improved UI response for dials with only a few values
on Save as... outside normal patch directory, warn then allow anyway.
fix an issue loading patches if the home directory was renamed (Mac OS)
fixed a bug where a program change could cause t3d to stop receiving
added environment menu that contains editor and OSC settings
added "reset editor size" option in settings
The Aalto 1.6 update is free for existing Aalto customers. A demo version is also available free of charge. The demo plays a gentle reminder sound every so often, does not allow saving and is not time-limited.
Thats quite a substantial .1 upgrade, thank you!
Yay! I like improvements (though Aalto has been very stable and effective as is)
Aalso... (Geez, what a dummy I am)... I forgot the proper upgrade procedure ... what do we do?
Do we just DL the latest version or wait for an email link?
---
I love Aalto BTW... even more side I figured it out. Its so very alive and supple for making truly unique sounds and saving me buying a darn solder-based, space/money sucking MODULAR!
Complex Osc FTW! :)
Ha... figured it OUT!
Thanks AGAIN for making THIS!
I can see the download preset package for OSX but not windows, theres just the demo.
The patches come with the demo installer. But I think I see: maybe you want to install just the patches. I should make a patch-only one. Meanwhile, you can just run the demo installer, and then run your personalized installer again. Or move the .dlls in VSTPLUGINS yourself.
Midi-Learn finally added?
Will do, I thought there used to be a separate windows patch installer though.
Thanks :)
I can confirm my issue with Midi program change in Ableton is fixed, thanks Randy!
Thanks Randy. Wait for Kaivo update (wires control possibilities for dry\wet dials of Body and Resonator).
Impressive list of updates, but will Midi-Learn ever be implemented? I've tried everything to automate in Sonar X3 with my keyboard without success. I really would like performance-type automation without using a mouse please.
Is automation working?
Ive tried in both Live 9.1.7/Mac 10.9 (au and vst) and Bitwig 1.1, and it doesnt seem to be working for me.
I think I'm doing everything correctly, as it works with Kaivo (and others) and also if I reinstall Aalto 1.5 it works there too.
(in Live the curve goes dark red, but i don't know what that means, I guess its having a problem)
note: the automation initially appears to work, i.e. curve gets drawn, dial moves, but as soon as it loops/playbacks it turns dark red and doesn't do anything. I have the same issue if I just draw the automation in.
edit: works ok in Logic 10.1
same as technobear - automation is broken.
Aalto 1.6, OSX 10.9.5, Live 9.1.7
a few comments passed to Randy for the benefit of others, there's a tricky to describe 'briefly' issue where the sequencer indication and sound engine are at odds, both together are a bit wrong, so don't be too reliant on that side for 'specifics' it's not manifested in every usage case so ymmv, but it's buggy (same for 1.4 and 1.5 btw)
secondly the sequencer (at default window size) if set to quantise will not allow you to 'mouse' in the highest value (it'll be a semitone short) - you can resolve by mouse scrolling the slider or working on a stretched UI, just for the record (Max/OSX)
the vst doesn't scale properly in Max7, ok in Max6 and Live and AU is fine, an issue for the minority perhaps
hth
I can not find environment menu that contains editor and OSC settings. And macros are not working properly in Bitwig. Values just go all the way up. Automation is broken.
OSX 10.10.3 Biwig 1.1.5.
I can't properly dial in values anymore. everything skips to values.
windows 8 fl studio 11
In principle, i can understand the feeling of Randy. All of these smartphones, tablets, thousands OS versions, different awry hosts\plugins formats, can go crazy AHAHAAHAH :D why the hell is it all. Nor any megamind in the world do not get to be compatible all with all. Damn, where normal times, when there were only two formats.
I have a problem (well, a visual one at least) with the patch browser menu in Aalto.
Currently it sorts files and folders as if they were the same thing, meaning if you have a file named "Default" outside of all folders, it will sort it between two folders.
Can you make it so that files are shown after folders in the patch menu?
Also, when I instantiate Aalto, the preset shown is "Aalto default". Despite me having a "Default.mlpreset" in the Aalto presets folder. Can you make it so that Aalto loads whatever is in "Default.mlpreset" if it's found in \Madrona Labs\Aalto\ preset folder?
Thanks!
Apologies if I'm missing something obvious (wouldn't exactly be the first time!!), but I can't figure out the install procedure on Mac? I received a 'personalised' installer when I purchased v1.5, but can't find an installer for 1.6 anywhere apart from the demo...?
I am keeping my replies about Aalto 1.6 bugs in the software forum.
I recognize that MIDI learn is a thing a few people really really want, but it's not a trivial feature to add. I would like to add it. Meanwhile you have the workaround of using one of the many hosts with good MIDI learn capabilities.
@evildragon thanks for the comments about the patch menu—I like your default idea and I should do that. On the sorting, I am mixing files and folders alphabetically the way the OS does it, and I think this is what makes the most sense.
@pete66, when you log in to the site here you should see a 'My Downloads' link, click that and you should see the link to the Aalto 1.6 installer.
Thanks Randy. Apologies - had logged in with the wrong email!!
any news on a 1.6.1, which fixes the OSC and automation?
No news. Working on it, of course!
fantastic update! thanks for your insane amount of hard work.
All's well and smooth here in os x Yosemite & Live 9.1.7
Man I love this synth. lol. Keep up the good work.
@randy - but over here on Windows at least, folders are always shown before files... That's what throws me off really.