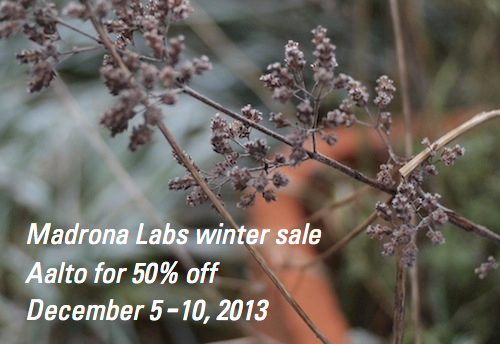 Greetings! I'm writing to announce the Madrona Labs five-day winter sale, starting now. From now until December 10, I am selling Aalto for $49, which is 50% off the usual price. Now is a great time to get everyone's favorite patchable software synth for yourself or a friend. Visit the Aalto page to buy.


If you would like to give someone an Aalto license as a gift, it's easy.
Just buy the software in the usual way, but enter your friend's first and last name instead of yours when you make the Madrona Labs account. Then you can gift your friend the account name and password. Your friend can log in, download the software and change the account email to his or her very own.



I'll be posting again this month with sound previews and finally, with the release of our next software synthesizer, Kaivo. If you haven't heard about Kaivo, please check out the short preview video below. I'm very excited to get this new instrument into your hands... and so I'm going to get back to work on it now. More soon!
Hi
Damn! I would have bought it 50% was a really good price.. Hm I saw it today the 12 dec. Arggggh I guess some kind of newsletter did not reach my inbox. So have to cary on with the demo and CM version for a while.
Bent www.ljudkonst.se