I just got back from a whirlwind trip to NYC to show the Soundplane at the Expo74 event put on by Cycling '74. I got to meet a few of the first ever Soundplane owners in person (hi guys) and to see lots of old friends from the Max/MSP world.


Soundplane got to meet Monome and Arc for the first time! Awwwww: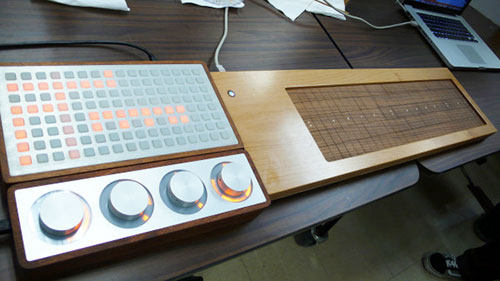 Just a little news for current and future Soundplane buyers. 14 Soundplanes have been reserved, so 16 remain out of the first batch of 30. Preorders keep coming in one by one, so I am hopeful that after my trip down the coast, I will have sold out the initial batch. By then, we will also have quotes from our suppliers, so we may be able to go ahead with production in any case if we are within arm's reach of 30.


I'm setting up a payment system that will work for future preorders as well as European customers. Mostly this means waiting for banks and such at the moment. So, EU customers especially, stay tuned.